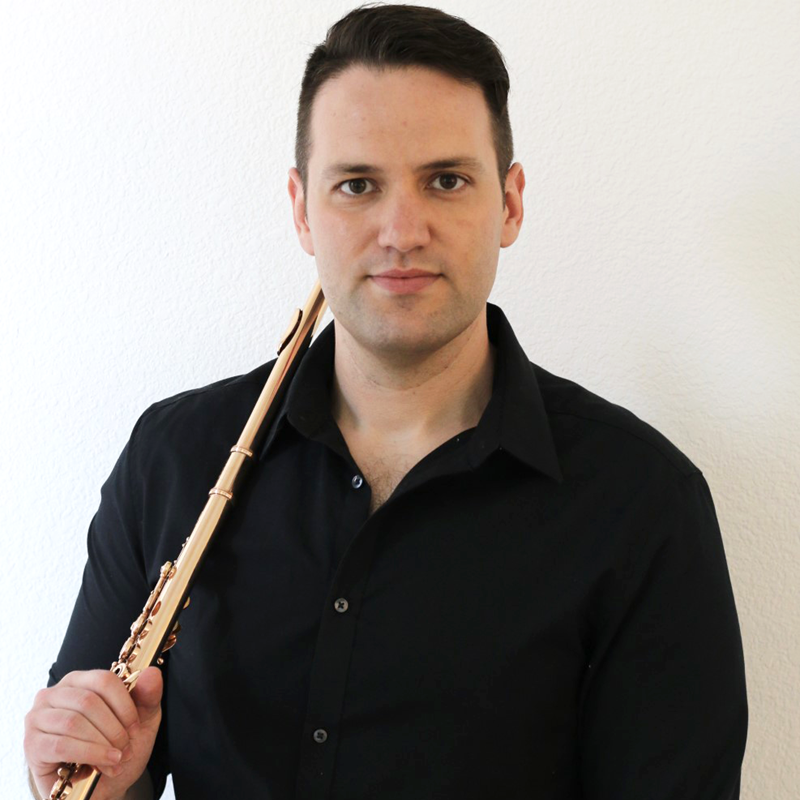 Principal Flute
Jake Fridkis
Hailed by the Dallas Morning News for his "radiant tone and generous expressivity", and the Fort Worth Star Telegram for his "musicianship, clear sound, precise intonation, and empathic dynamic levels",  Jake Fridkis has built a reputation as one of the leading flutists of his generation and "a modern day Rampal" (Cvnc.org).
Jake has performed as a concerto soloist in Germany, Italy, France, Brazil, and throughout the United States. He has performed with the Cleveland Orchestra, Philadelphia Orchestra, Pittsburgh Symphony, St. Louis Symphony and as guest principal flute with the Dallas Symphony, Symphony SONG (Korea) and the Norwegian Radio Orchestra including for their tour to the St. Magnus festival in Scotland. In 2022, Jake joined the nine time Emmy Award winning All-Star Orchestra for their fourth season on PBS.
A graduate of the Yale School of Music and recipient of the Nyfenger Award for the top woodwind player in his graduating class, Jake is one of the few musicians to be featured on a top five album on each of Billboard's Top 200, Classical and Hip Hop and RnB album charts. He has appeared on recordings with The Cleveland Orchestra, The Fort Worth Symphony and with renowned popular artists Drake, Dj Khaled, Roddy Ricch, Ty Dolla $ign and Lecrae among many others. For his work in popular music in 2022 he won a Gospel Music Association Dove Award and was nominated for a Grammy Award.
Highly sought after as an educator, he is currently on the faculty of the Eastern Music Festival. He has taught masterclasses at the Yale School of Music, YoungArts, Cleveland Institute of Music, Depaul School of Music, University of North Texas, Texas Christian University, Houston Flute Society, University of Massachusetts Amherst and the National Flute Association.
Jake currently holds the position of Principal Flute with the Fort Worth Symphony Orchestra, Eastern Music Festival and is a Wm. S. Haynes flutes performing artist.