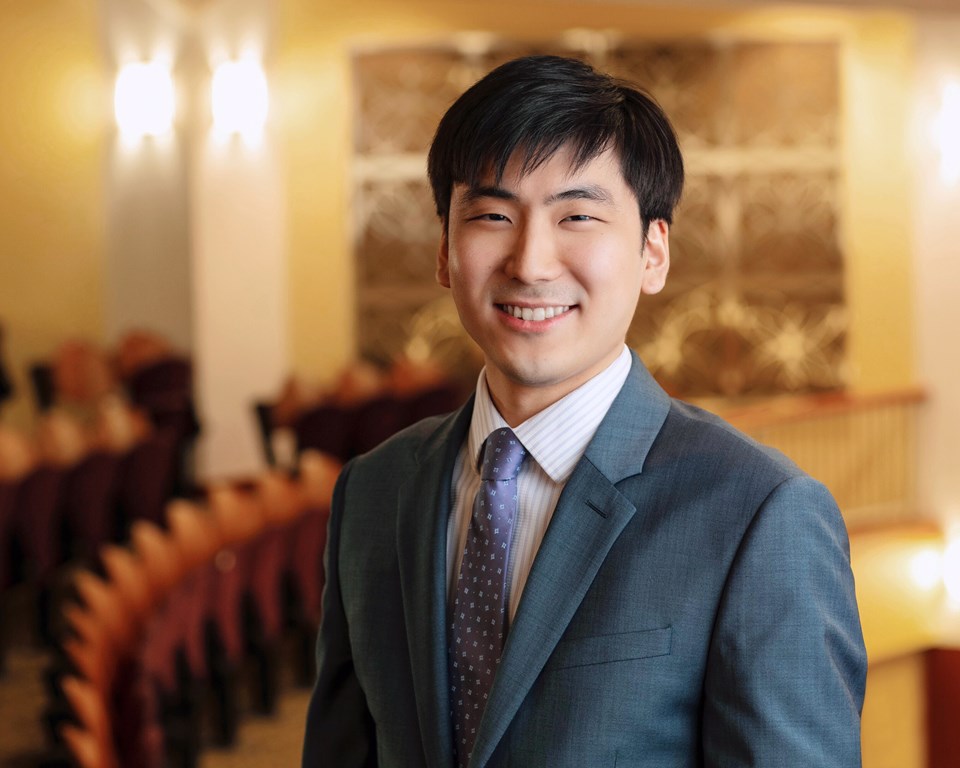 Welcome Assistant Conductor
Taichi Fukumura
Read the full release on this appointment here:
BIOGRAPHY
Taichi Fukumura is a rising Japanese-American conductor known for his dynamic stage presence, resulting in a growing international career. Acclaimed for his musical finesse and passionate interpretations, he is praised by musicians and audiences alike across the United States, Mexico, Germany, France, Italy, Spain, Bulgaria, Hong Kong, and Japan. A two-time recipient of the Solti Foundation U.S. Career Assistance Award in 2021 and 2022, Fukumura is the newly appointed Assistant Conductor of the Fort Worth Symphony Orchestra for the 2022-2024 seasons.
Highlights from the 2021/22 season include guest conducting debuts with La Orquesta de Cámara de Bellas Artes in Mexico City and the Fort Worth Symphony Orchestra. Selected by the Berlin Philharmonic as one of 10 Assistant Conductor Candidates, Fukumura conducted in the Siemens Conductors Scholarship Competition. Fukumura served as the Assistant Conductor of the Chicago Sinfonietta, where he previously received mentorship from Music Director Mei-Ann Chen as a Freeman Conducting Fellow. 
Past engagements include guest conducting in the Boston Symphony's Community Chamber Concerts, leading members of the BSO in Stravinsky's L'Histoire du Soldat. Fukumura assisted the Pittsburgh Symphony Orchestra and Chicago Philharmonic as cover conductor. Equally adept in opera conducting, he has led full productions of Britten's Turn of the Screw and Mozart's Don Giovanni at the Northwestern University Opera Theatre. As Staff Conductor at Boston Youth Symphony Orchestras (the only youth orchestra in the country to present annual opera productions), he led rehearsals of many monumental works including Puccini's La Boheme.
Passionate advocate for music education, Fukumura previously served as Director of Orchestras at the Merit School of Music in Chicago. In this capacity, he worked alongside the Mellon-supported Chicago Musical Pathways Initiative, building a robust orchestral training program for young musicians from underrepresented backgrounds. As the former and founding Artistic Director of the Northwestern Medical Orchestra, he led the endowed ensemble to national acclaim. Recognized for his innovations and dedication to the community, Taichi Fukumura was appointed by the mayor to the Evanston Arts Council in Illinois, and served from 2021-2022 to empower and amplify local artists and arts organizations.
Born in Tokyo, Taichi Fukumura was raised in Boston and began music studies at age three on the violin. Professionally trained on the instrument, he received a Bachelor of Music in violin performance from Boston University, studying with Peter Zazofsky. Fukumura received both his Doctoral and Masters degrees in orchestral conducting from Northwestern University, studying with Victor Yampolsky. Additional conducting studies include the Aspen Music Festival conducting fellowship with Robert Spano, mentorship in Paris with Pierre-Michel Durand and l'Orchestre Prométhée, the Hong Kong International Conducting Workshops with Jorma Panula, Christoph Poppen, and Yip Wing-sie, and the Pierre Monteux School and Festival with the late Michael Jinbo. Taichi Fukumura is fluent in English and Japanese.