Beethoven's "Pastoral" 

Symphonic
October 16–18, 2020
Dates
Location
Will Rogers Memorial Auditorium
Duration
This concert will last approximately 80 minutes and will be performed without intermission.
Overview
Beethoven's deep love of nature-inspired his 6th Symphony, and he famously said this work was "more an expression of feeling than painting." Be swept away to the countryside as you hear musical scenes depicting the calls of birds near a brook, a peasant's dance, a thunderstorm, and a shepherd's prayer. Concierto de Aranjuez, which ushered the classical guitar into the 20th century, will guide you on a journey of the Aranjuez region of Spain which Rodrigo and his wife loved to visit. Written in the vibrant key of D Major, Prokofiev's "Classical Symphony" hearkened back to the Viennese Classicism of Haydn and Mozart while still managing to capture the essence of his tumultuous era in history.
Works
PROKOFIEV
Classical Symphony, Op. 25
JOAQÚIN RODRIGO
Concierto de Aranjuez
BEETHOVEN
Symphony No. 6, "Pastoral"
Limited Availability

Due to COVID-19 city and government mandates, we have had to make adjustments to seating capacity and inventory for this performance may be limited. If you have questions, email boxoffice@fwsymphony.org.
2020-2021 Season
Single Tickets On Sale Now
Plan Your Concert Experience
Concert Conversations
Gain extra insights into our Symphonic programs with Shields-Collins Bray, who presents Concert Conversations one hour prior to each Symphonic Concert. These free pre-concert lectures take place inside the auditorium and often feature recorded excerpts of music you will be hearing performed live as well as conversations with guest artists and visiting composers.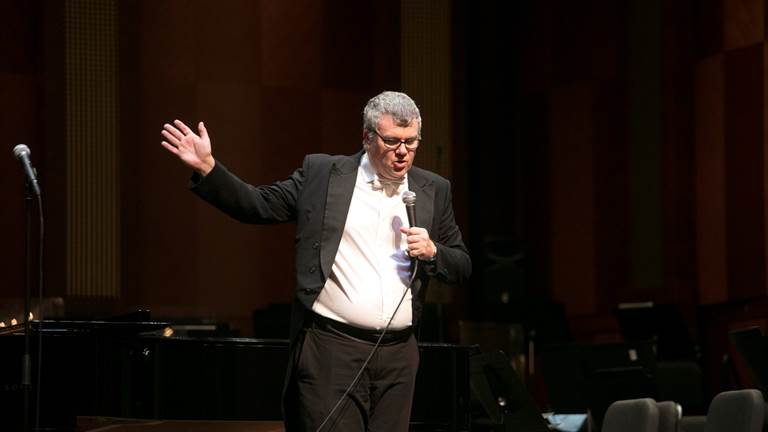 About Will Rogers Memorial Auditorium